Words cannot describe how important our GSD Gretel is to our family
by Lori Means
(MO)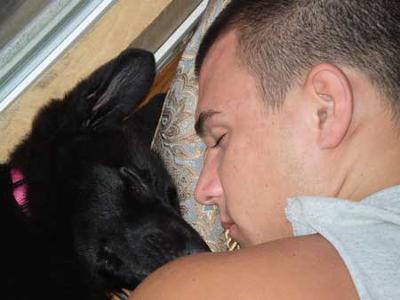 My husband Mike was deployed last summer, and as a "surprise" upon his return, we added a new family member. Gretel is a black GSD with such personality and spirit.
At that time, we also had Rhett and Maggie, our two black Miniature Schnauzers. Thus, our household was quite full!
Mike was not thrilled about having another four-legged critter in our house. He kept saying to our friends, "Does anybody want a dog?"
A few months later, our beloved Maggie passed away, leaving her son Rhett without his mom. Gretel filled that void and even more. She thinks she is a little dog and is friends with everyone (dogs and people alike) she meets. Mike has since fallen in love with her, and she is his little "stick tight."
This past summer, both of my teenage sons were immersed in football 2-a-day's. They came home exhausted after every workout.
Cody, my eldest, fell asleep on Gretel's bed with her. You will not find another sweet, even-tempered wonderful dog than our sweet girl. Words cannot describe how important she is to our family. We love her.
Lori Means, MO
Total German Shepherd
:
Hey there, Lori. It is good to hear from you all the way over in MO. Thanks so much for taking the time to come here and share your black German Shepherd puppy story about Gretel.
And I love the picture too - they look soooooo comfortable just sleeping there together! What a sweet photo. You should blow it up and have it framed because it is really sweet! And I'm sure I am probably not the only person who is going to think that.