Check Out Our Black German Shepherd, Hurley
by Alex Holm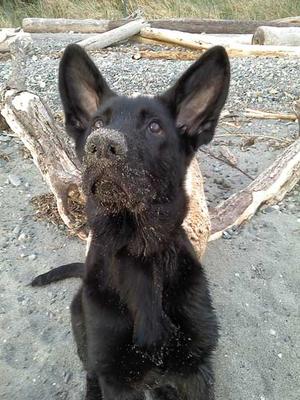 So regal
Hello,


Here are some pictures of my puppy, Hurley. She was born Jan 2, 2012, sweetest dog I have ever known.
Thanks for your consideration.
Alex Holm
Total German Shepherd
:
Hey Alex,
Wow, what a beautiful dog your Hurley is! Thanks so much for taking the time to share her with us all here!
She is quite beautiful for sure. I love the black color on a German Shepherd Dog. What a striking color on an already beautiful dog.
Black German Shepherds are among my favorites. But then, who am I kidding, I love them all no matter what color or pattern they are!
I have owned a few black German Shepherd Dogs in my time and they are quite striking! The color is scary to some people too so keep that in the back of your mind too at all times - I don't know if it is in any way related to the "black cat" or supernatural kind of thing or what - but better safe than sorry.
Good luck with your beautiful black GSD and maybe in the future you can send us some more information on how she is developing and maybe some more pictures too. And if you have the chance, give her a hug for me!