My German Shepherd Girl Chloe
by Leona
(Newfoundland Canada)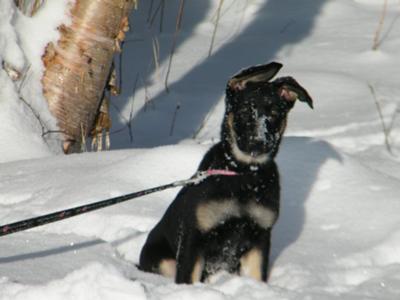 Chloe loves snow
My puppies name is Chloe and she is 3 months old. What I like the most about my GSD is her loyalty to me, she's a big baby and wants to be with me wherever I go.


I chose the German Shepherd because they've always been my favorite breed.I've been the proud owner of 3 GSD's in the past and loved every minute of time i've spent with them.
My favorite activity with her right now is playing outside in the snow with her ball. she loves it when i throw or kick snow so she can try and catch it. It's so cute to watch.
I would definitely recommend German Shepherds to others. Besides being highly intelligent they are also very loyal and protective when it comes to their master/family. Very good with kids and other animals.