Nativity Scene Guest
by Kimberly Morris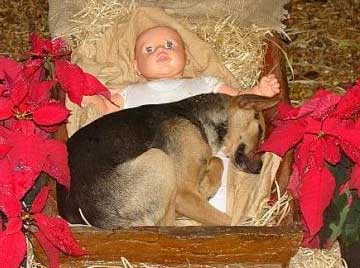 Nativity Scene Guest
Of course, because of Anakin, I'm partial to German Shepherds...but isn't this the sweetest picture??? Have a great day, everybody! (Don't float away!!!)
Love,
Kim
"During the night the folks came across this scene.
An abandoned dog was looking for a comfortable, protected place to sleep. He chose baby Jesus as his comfort. No one had the heart to send him away so he was there all night.
We should all have the good sense of this dog and curl up in Jesus' lap from time to time. This is too sweet not to share.
No one mentioned that the dog breed is a "shepherd!"
Total German Shepherd
:
Hey there, Kimberly. It is good to hear from you. Thanks so much for taking the time to come here and sharing that wonderful little picture and the story behind it.
That is, without a doubt, the cutest picture I believe I have ever seen and the sweetest story ever. I even cried a little bit after reading it - but especially after looking at the sweet little critter sleeping in the manger, keeping baby Jesus warm
And readers, let us know what you think about the above story by leaving some comments below - just click on the link that says "Click here to post comments".