German Shepherd friends, Lily and Ruger
by La Trisha Quade
(WI)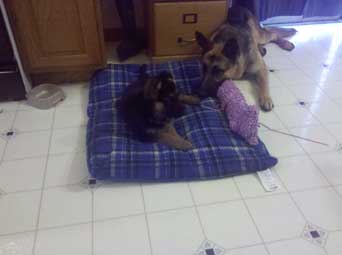 My German Shepherd friends, Lily and Ruger
I have attached a picture of Lily, 16 months, and Ruger, 2 months old.
This was taken the 1st day we brought Ruger home and Lily was not quite sure what to do with him!
They are best friends now, though!
La Trisha Quade
Total German Shepherd
:
Hey there, La Trisha. It is good to hear from you way up in the wilds of WI. Thanks so much for taking the time to come here and sharing your German Shepherd Dog stories about Lily and Ruger with us all today.
I really love both the names you have chosen for your German Shepherds too. I have never had a Lily but may one day but I did think about naming my newest German Shepherd puppy Ruger and Luger before deciding on his name. Very German names and very tough sounding too - perfect for a male German Shepherd puppy.
I really love the picture - they look happy just hanging out together if not a little curious! I hope they are all doing well by now and getting along fine together. That initial meeting process can take a little time.