My Dog Rambo is My Best Friend and Loyal Companion
by Ileana
(Charlotte, NC)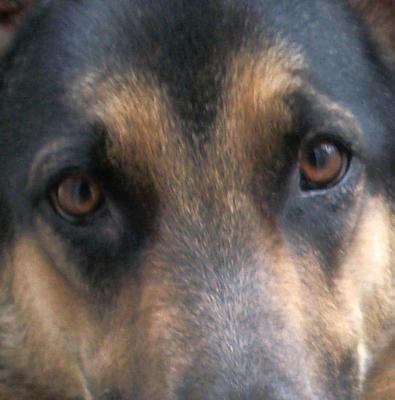 Rambo's intelligent brown eyes
I can't believe that Rambo is already 3 years old. Where did time fly? I guess time flies when you are having fun. I am hoping for many, many happy years with my Rambo.


Total German Shepherd
: Hi Ileana,
Thanks so much for taking the time to share a little bit of information with us all here about your wonderful Rambo. He is indeed a handsome German Shepherd.
My boy Rodie will be 3 years old next month too, and my newest GSD puppy will be 5 months old at the same time. You're absolutely correct, the time just flies. I can still vividly remember when Rodie was the same age as Cooper is now.
Enjoy your Rambo, he is just in the prime of life. I hope he has nothing but super health and happiness and that you both have the best time together possible.
German Shepherds make wonderful companions - I'm sure you're more than aware of this, and having him around is very comforting as far as security goes too.
I hope you and Rambo have the best life together possible. Maybe you can send us some more pics in the future and give us an update on what is going on with you both. Continued success to you both.