My Female German Shepherd, Izzie
by Luke Jacobs
(USA)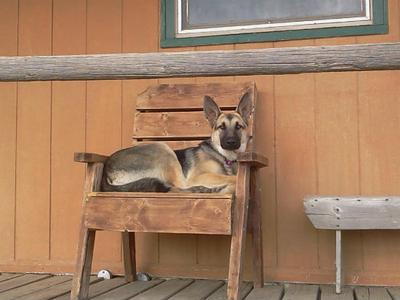 Izzie on guard
Izzie is a 21 month old female. Izzie is a very intelligent and extremely athletic dog.


She spends her days sitting in this chair
keeping an eye over the farm, cattle, chickens, and even the cats. At night she keeps the coyotes from getting close to the house.
She also is an excellent hunting dog. Several times I have seen her jump up and catch pheasants out of the air. No need for a gun when hunting with this dog.
She also has a great disposition. She is excellent with kids and very rarely barks.
Luke Jacobs
Total German Shepherds
: Hey Luke,
Thanks so much for telling us all about your wonderful Izzie! First of all I love the name and the picture you have sent in of her is wonderful. She looks like the established queen of the hill!! :)
She seems to be a wonderful ambassador for the breed - it's so wonderful to hear that's she so active and such a great helper to you on your farm.
Continued success to her in the future - she is definitely a wonderful example of the extremely intelligent, active and versatile German Shepherd Dog!