Our Sweet Feather Monster, Kane the German Shepherd
by Angela Guffey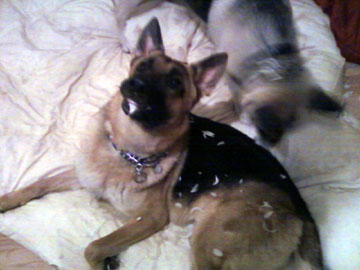 This is another attempt at getting our boy Kane pictured as GSD of the month.... I just love this pic of him. The last time we entered the contest he was only 7 1/2 months old.


We didn't win but our story was published here is his link https://www.total-german-shepherd.com/our-german-shepherd-kane-a-barrel-of-fun-laughs.html
Now a beautiful almost 2 yr old sweetheart, the attached pic show he's still a barrel of laughs. Poor guy didn't make the mess, his sisters did but he got caught enjoying the after math of their ripping the feather mattress to shreds.
Total German Shepherd
:
Hey Angela,
Thanks so much for sharing that lovely picture of your little feather duster, your German Shepherd Kane. He is absolutely gorgeous. Keep sending those pictures and stories in of your big boy.
I never get tired of reading about other peoples experiences and life with their own German Shepherds. They are all so different - yet so alike too, It is a priviledge that I never grow tired of.
And I'm sure our other reader feel the same too. So, to all of you readers out there, I encourage you to share the story of your own German Shepherd too. White, black, saddleback, mixed - we don't care but we would love to hear how your life has been impacted by this lovely breed of dog, my favorite, the German Shepherd Dog.