Hans the German Shepherd camera ham
by Amanda
(Interlochen, MI)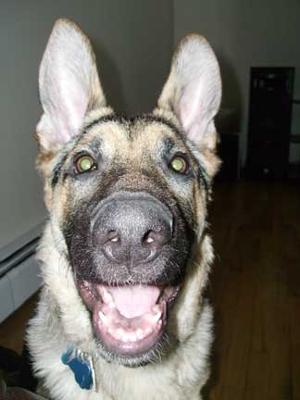 say cheeeeese......
Meet Hans! This is my 4 ½ month old baby boy, and the biggest love I have ever met (Literally too, he's already over 50lbs).
He just graduated from puppy kindergarten this past week, and he's looking forward to basic obedience training starting next month.
Hans is at a hilarious stage where he is learning that he wants to protect mom from everything, including my hairbrush and blow dryer, so we're working on not attacking anything (but especially inanimate objects).
He just loves to pose for the camera, I couldn't resist taking this picture! I took it almost three weeks ago (he'll be 5 months old this week), but he gives me that same smile every chance that he gets.