Our GSD puppy, Jake
by Toni and Peter Quaresima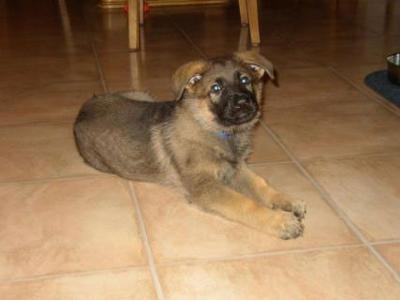 We have had 3 dogs in out lives in the past 26 years. Our first was a GSD named Mandy who passed away from ear cancer at 10 yrs old, then we got a Doberman, Tai, who thought she was a poodle and went crazy on us when we moved to a new home. We ended up giving her to North Shore Animal League where she got adopted quickly.
Our last dog was Roxie, a Shih Tzu who was with us for 17 ½ years. She was a sweetheart. We thought we were done with dogs but when I saw my neighbors sister's new GSD puppy I knew we had to get a GSD again.
We submitted an application to the New Skete Monastery in Cambridge, NY for a puppy. The process could take anywhere from a year to 2 years since they select the puppy for you based on your application and meeting you.
Our application went in back in 2/2010 and we got the call that our puppy was ready the day after Thanksgiving. We were sent photos of the parents, Basta and Dux and were told that he would look more like his mom. Based on the photos we decided to name him Jake.
We picked him up on 12/23/10, he was born on 10/29/10 and will be 3 months old this month. He has more than doubled his weight since we got him, he will be a big boy since his dad is 100 + pds and his mom is about 70.
Here is his picture at 2 months old. He is a beautiful GSD and is so smart. We love him to pieces.
Toni and Peter Quaresima
Total German Shepherd
:
Hey there, Toni and Peter. It is so good to hear from you. Thanks so much for taking the time to come here and share your a story about your sable German Shepherd puppy with us all today.
I really like the picture you have sent too - he looks soooooo comfortable just hanging out there waiting to play! He is a beautiful color too.