9 week old German Shepherd Elsa "re-energizing"
by Trish
(Houston, Texas)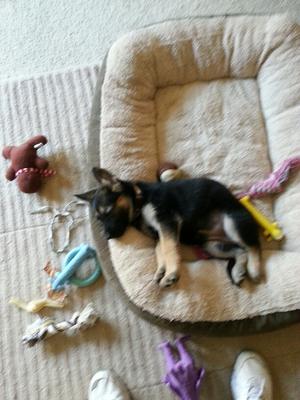 German Shepherd puppy Elsa
We picked up our puppy on New Years Eve. She was 4 lbs 4 oz when we got her and now at 9 weeks she is 9lbs 8oz. She is so much fun and energic.


We always say she is re-energizing every time she takes a nap. Here is a picture of her re-energizing.
Total German Shepherd
:
Hey Trish,
Thanks so much for telling us about your German Shepherd puppy Elsa and sending in the adorable picture of her. She is a beauty for sure! And man I really miss puppy breath :)
Many years ago I also had a German Shepherd named Elsa - she was a wonderful dog and I loved her dearly. Just the same way you feel about your little Elsa I'm sure.
And your thoughts about her "re-energizing" are absolutely perfect. That's exactly what she is doing in her own little way!!
So at her young age you have a lot of memories coming your way soon. Take lots of pictures because they don't stay little very long and as soon as she is fully vaccinated do your best to take her every place that you can and socialize her like crazy with other people, animals and things.
Good luck with her and continued success in the future - after all, German Shepherds rule!