Luca, my handsome 14-month-old German Shepherd Dog
by Rachel L. Boehm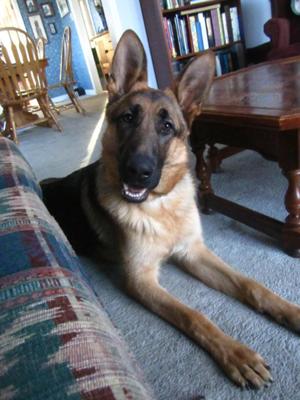 This is Luca, my handsome 14-month-old German Shepherd Dog. I got Luca when he was 9 months old.


He has become my faithful running companion, and together we are discovering the beauty of running together in all seasons.
Luca loves the water, too, so we often take time on our runs to stop by at the various lakes we pass for a swim and a game of fetch.
Rachel
Total German Shepherd
:
Hi, Rachel. We are so glad yoiu decided to share with us. Thanks to you for taking the time to come by here and sharing your gorgeous German Shepherd Luca with us right now. Love that photo - what a great picture - he looks a bit surprised in the photo you sent in but also he looks so cute and inquisitive.
What a sweet heart. And he is a big boy too! Just wait until he fills out. He's going to be a big fella for sure!
It's always nice to hear about all our German Shepherd friends and family members out there. And it sounds like Luca is a great exercise partner for you. Great idea - now you both get loads of exercise and I'm sure he loves you for it.
Plus a good security measure I imagine for a lone woman out jogging around. Not many people would be willing to mess with someone who's running partner could chew up their arm.
And to all you readers - thanks so much to all of you for reading along with us and please come back often to see what else is going on in our fast growing German Shepherd Dog community. And we encourage you to let us know what you think about the above story, and many others sent in by readers (found throughout this site) by leaving some comments below.