My New German Shepherd, Bear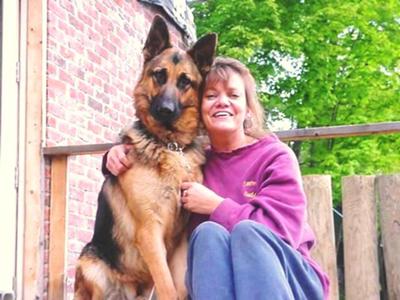 I picked up Bear from a rescue shelter. Bear was 10 months old at the time and had previously been adopted but returned.
Bear and I hit it off immediately, as you may guess, Bear was abused by his 1st owner.
He currently weighs about 112 lbs. As you can see from his picture one HANDSOME dog.
I love German Shepherd's and have had one all my life. Bear is currently 6 1/2 years old.
Total German Shepherd
:
Hey there, Thank you so much for sharing your great story about rescuing your new German Shepherd Dog, named Bear. What a wonderful story but I'm so sorry about hearing about all the circumstances that lead up to the adoption. Sometimes I am glad that don't talk because I would hate to hear the stories that some of these German Shepherds might tell us.
I hope you're both doing much better right now. And I'm sure Bear will help you in many ways as you will with him. There's nothing like a new German Shepherd Dog in your home to help you pick up your spirits and make your home even "homier".
And what great pictures you have sent in to us here too - and you're absolutely right, he is a very handsome young man. He will make you a wonderful companion.