Ruger the Magnum Pup Just Passed his Canine Good Citizen Test!!!!
by Ruger's Mom
(Hope, Michigan)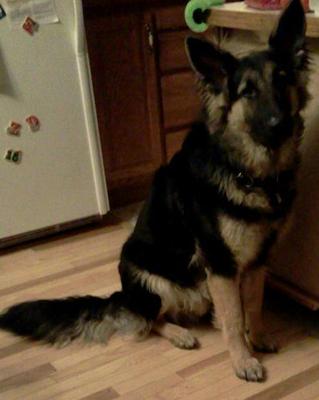 Ruger next to the counter, at the cookie jar
Hi Everyone, after months of obedience class, and lots of practice he did it! For a while he had a problem with strange dogs. But he finally realized that he had nothing to be fearful of and acted like a good boy should.


I am so proud of him! He is 10 months old and probably close to 95 pounds. His ears are over our kitchen counters, and the corner guards I put there for my Granddaughter are now there for Ruger. He has bumped his head right about eye level a couple times so he finally left those alone on the corner.(he thought they were a well placed toy)(NOT!)
We are now practicing Rally and next week are going to start some Tracking exercises. I am excited!!! Ruger loves his classes, he learns so quickly, and is so dedicated it is unreal. Maybe I will get a video to load sometime? You have to see it to believe it, how he works, the one steps backward is like we are dancing he is so close to me.
I just love it and him of course! Until next update, take care, and take your puppy to obedience class you will love that you did!