My German Shepherd Kitt
by Becky
(Ohio)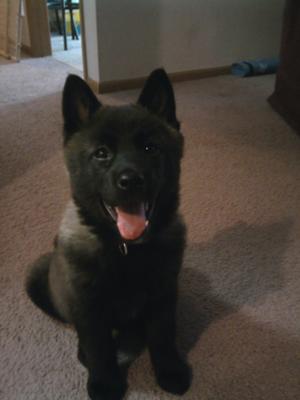 We got Kitt about a week ago - she is 10 weeks old and loves to play with our Chow, Mei Ling.


Attached is a picture - to me, Kitt doesn't have the typical GSD look to her so I was hoping someone may have a suggestion to what color she may end up being.
Her face, ears, legs, tail, and belly are black, but her body looks like it's turning a tan/gray color.
Total German Shepherd
:
Hey Becky, Kit is such a little cutie. She looks like a sable German Shepherd to me (but the pictures are a little dark as far as the lighting and background are concerned so it's a little hard to tell for absolutely sure) so don't be surprised when her fur color changes several times over the next few months.
If you want to read up more about German Shepherd Dog colors and patterns you can do so by going here;
German Shepherd Dog patterns
German Shepherd Dog coat colors
What a great German Shepherd puppy story. And thank you so much for sharing your great story about your wonderful German Shepherd puppy Kitt. And what wonderful pictures - I absolutely love them all!