Black German Shepherd Smokey is Part Snow Bunny
by Monte Pack
(Canada)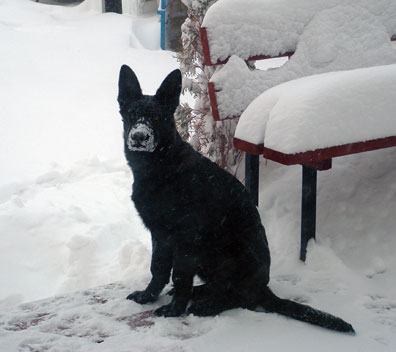 Smokey in the snow
This is another pic of Smokey. He is about 4 months old in this picture and he is a great addition to our family. He is so protective of my kids and yes…. He loves the snow!
Monte Pack
Total German Shepherd
:
Hey Monte,
Thanks for sharing the wonderful picture of your little Smokey. Now for some reason I have the song, "On Top of Old Smokey - all covered in snow" stuck in my head. :)
He is absolutely gorgeous! Good luck with him - and hey, with his color the way it is, you'll never lose in him the snow, right? :)
Have fun with him and keep the pictures coming in. Good luck with your handsome black GSD.