My German Shepherd Puppy, Shylo
by Deb
(Enola, PA)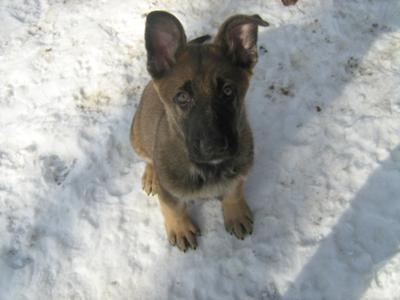 Shylo at 9 weeks
My 9-week old baby boy, Shylo. AKC name Shylo Apache.
Great German pedigree line, very intelligent little boy, learning quickly. On his 2nd day in my home, he already "asked" to go outside to potty.
Looking forward to many years with Shylo. He doesn't replace my other German shephard, Apache, by instead helps me to remember just how special Apache was.
Deb, Enola, PA
Total German Shepherd
:
Hey there, Deb. It is good to hear from you all the way up in PA. Thanks so much for taking the time to come here and sharing your German Shepherd puppy story with us all today. Shylo is so cute! And just look at those ears! Wow!
And I Loooove the picture too - Shylo looks soooooo comfortable just hanging out in the snow! I'll bet he loves it too - I know my new German Shepherd puppy does - and we very seldom see snow down here in the south. But when they do get the chance to play in the snow or even better, the snow drifts, they usually just go bonkers don't they? But it is so much fun to watch.
I wish you many, many years of happiness with your German Shepherd puppy Shylo. He is going to make you one fantastic companion I'll bet. Please send us more pictures whenever you get the chance and maybe you can fill us in on how Shylo is doing on down the road.