My 4 legged German Shepherd baby Gunner :)
by Shandie
(MA)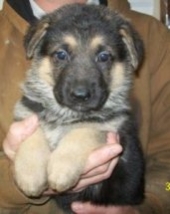 This is Gunner at 5 weeks old, the first picture I saw of him and fell in love
I have always loved loved loved german shepherds, probably because my dads family grew up with them and had nothing but wonderful things to say about them. They are extremely good looking and smart and I just adore them.


My boyfriend had just recently bought his first home and she shared the love of GSDs also, so we thought it was the perfect time to start looking into getting one.
At first we thought we would like to rescue one, but believe me, they make it much harder than you think. You have to have a certain size yard, a certain height fence, you cant live further than a certain distance from the shelter etc.
We decided it probably was not going to be the best way to aquire a GSD. I then decided to look around for breeders online. Everywhere around my town wanted so much money for them! An everage asking price was about 1,500.00 and I just was not going to be able to have that kind of money very shortly.
I then discovered a breeder out of South Dakota that shipped their puppies. I paid $500.00 for my baby, and he came with akc papers, his first shots and deworming, microchip, some food, and nuvet vitamins. Then I paid $300 for the flight and his crate.
I got to see pictures of the males from the litter at about 5 weeks old, and I knew as soon as I saw him he was the one for me! Nov 22, 2010 my boyfriend, his daughter, and I went to the airport and met Gunner! It was love at first sight! I am so glad he is a part of our family now and I can not imagine our lives with out him in it now. He is my pride and joy :)