6 Months old German Shepherd Puppy, Ruger
by Daniel Dimmock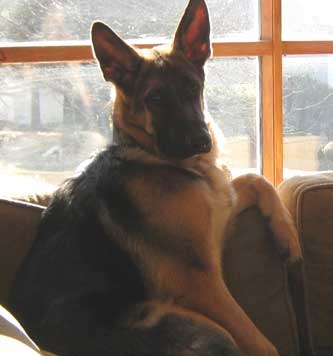 Ruger is a 6 month old blk and red male. He resides with Dan and Regina D. in Torrington, Ct.


He loves his Kong and puppy tread tire toys, and also watching the squirrels and birds out the window. He will start training for S&R, air scent tracking, and cadaver recovery.
Daniel D.
Total German Shepherd:
Thanks so much for sharing your story of Ruger with us. And there have been questions of what kind of toy was mentioned in the story above so I went and found a few potential examples. See what you think:
Here's the first possibility:
"Survivor Tire Trax" - High Quality Tough Natural Rubber - LARGE - Black - 6" - Great for Everyday Use for Large & Extra Large Dogs !!!
Here's another choice of dog tread toy that you might like to get for your own dog:
Squeaky Tire Dog Toy with Rope
Or you might even like this style better:
PetQwerks Animal Sounds X-Tire Ball Dog Toy, Medium