German Shepherds, Gunnar and Bella
by lisa roque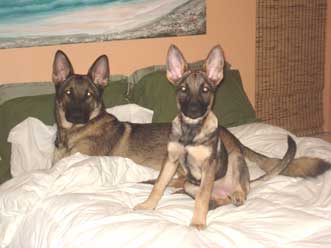 Gunnar is a 1 year old Sable, and Bella is his little sister (same parents, different litter) she is 3 months old. They are inseparable.
Gunnar loves to go running with me on the skateboard and Bella runs behind us barking, and barking until she catches him. Its like she is yelling at him "don't you leave me like that ever again!!"
They curl up together at night and fall asleep. The two best shepherds!! :) I could never imagine life without them.
I will forever own a German Shepherd. My babies would love to be on your website :)
Join in and write your own page! It's easy to do. How? Simply click here to return to GSD pup story.
Sign up for promotions, news, discounts, and the chance to win prizes for you and your German Shepherd