I'm German Shepherd Keisel and I'm a Steelers Fan!
by Devi J.
(Utah, US)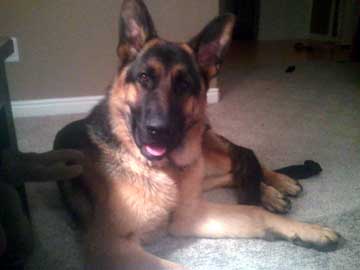 Hi. I'm keisel, named after brett keisel of the pittsburgh steelers.
I'm still a puppy, and am going to be 9 months old on the 20th of sept. I live in santaquin, utah with 4 other cats I love to chase, I mean "play" with.
I'm exited to see if I win this contest!! Thank you for having this web site for my humans', I know they will get a lot of great info from it!
bark, bark
Keisel
Sent from my Verizon Wireless Phone
Total German Shepherd
:
Thanks Keisel - I think yours is the first text message sent in directly from one of our "furry fans" woof woof