my beautiful german shepard dog!
by lois sanderson & Geneva Philora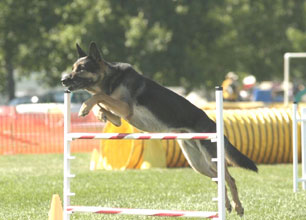 We had just lost my previous dog Axel, he died of old age and we was missing the company of a dog. So one day we decided to go and visit some kennels, we visited plenty and not a lot off dogs were what we was looking for.
We came to a kennel and asked if they had any dogs that was good with kids and was well trained, the owner said i do and she is a german shepard.
My mum didnt really like the sound of a German Shepard as they are known to be aggressive but this woman insisted we had a look.
She brought the dog out and i fell in love she was so playful and energetic!, my mum was getting around the idea and we took her for a walk. she was so good with me and my younger brother we just had to have her! my mum started to love her as much as me and my brother did.
We decided we was going to have her! My mum and dad said we will pick her up in the morning but we wanted her now. The owner said that a woman was coming to view the dogs in the morning so it was best to get her now. My dad drove to the cash point and paid for her.
When we brought her, her name was "Amy" we wasnt very keen on that name so in the car we decided to call her "Sheba" and now we have nearly had her for 4 years this january! i love my German Shepard she is very good natured.
lois sanderson & Geneva Philora
age 13