My what big ears you have!
by Chesie
(Birmingham, AL.)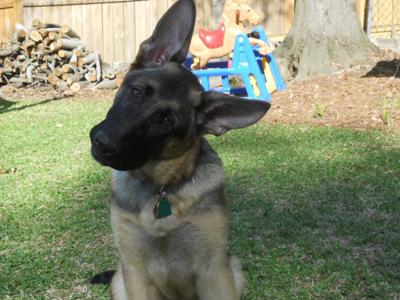 My, what big ears you have!
Max is such a good boy.... except he loves to jump in our fish pond and run around the yard like a wild man.
He is so smart and very loyal even at 5 months old.
He is our first GSD and we are having so much fun learning all about the breed.
Total German Shepherd
:
Hello Chesie, what a great German Shepherd puppy story. And thank you so much for sharing your great story about your wonderful German Shepherd puppy Max. And what a wonderful picture too - I absolutely love it! He looks so happy and I absolutely love it when they cock their heads at us like that. Too cute!