German Shepherd Pups After Their 1st Bath
by Liz Ferrante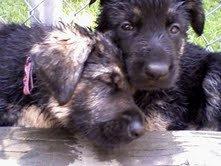 This is a picture of our two little pups right after there first bath!!
They immediately snuggled right up after we were done washing them and slept there for quite some time.
The l'il girl on the left is crush, and the boy on the right was named Dracula. They always roamed around together causing trouble!
Please choose my picture because they truly are the two cutest little puppies.
Liz Ferrante
Join in and write your own page! It's easy to do. How? Simply click here to return to GSD pup story.
Sign up for promotions, news, discounts, and the chance to win prizes for you and your German Shepherd