My GSD Puppy, Tala
by Lindsey Cochrane
(PA)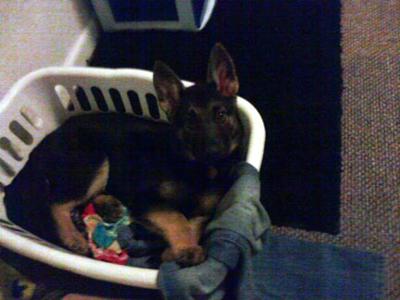 This is my GSD puppy, Tala. In this picture she is about 3-4 months old. (She is now 6 and a half months old and humongous!)


I was downstairs doing dishes and, while I was paying attention, she had a rawhide bone and laying nicely on the floor. Next time I look around she was nowhere to be found.
I went upstairs to start looking and she had made herself nice and comfortable in my clothes basket! See the look she's giving me? 'I was right here mommy! What was all that running around about?'
Lindsey
Total German Shepherd
:
Now that is one of the cutest pictures I have seen all week. Look at those perfect ears! Tala looks very wise for her young age. What a sweet heart she is going to be for you.
I wish you nothing but good luck, a long life, good health, sweet temperament and an un-ending love at all times for her momma. Good luck with your fuzzy little baby - she's definitely a keeper.