Our German Shepherd, Tucson, is an absolute love!
by Janyse Madsen
(PA)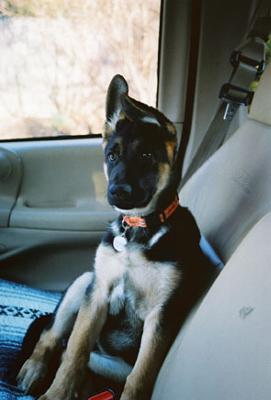 This is Tucson @ 4 months old. His Daddy is self-employed and Tucson loved going on jobs with him since he was 8 weeks old. Tucson is so named for two reasons:


His older brother had passed before Tucson arrived, but his brother's name was Phoenix, the love of our life. (And yes, we're a big fan of Arizona!)
Keeping with the Southwest theme, Tucson seemed like a great name, beautiful city and beautiful dog! PLUS, he is number 2 son, after Phoenix. Get it?
Two son = Tucson!!
Anyway, Tucson is an absolute love!! At 4 years old, he is such a gentle soul, gives our cat kisses on the forehead and let's her bite his tail.
He was not raised with children, but loves all ages!! My 4 year old niece loves to lay on his bed with him and run toy trucks over him. He likes to kiss faces!!!!!!!!
I hope you enjoy this baby picture with his "yeah, I'm bad; I'm working with my Dad" face
Janyse Madsen