My German Shepherd Puppy Babysits Our Jack Russell Puppies..
by Cassie
(TN)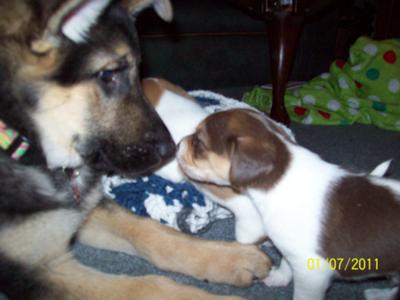 For Christmas I got a German Shepherd puppy. Her name is Jazzie Rhae; she's 11 weeks and 20 pounds.
A couple days before my mother's jack russell had puppies. They are now walking around everywhere! Jazzie watches them and makes sure they dont wonder off when mommy isnt around. She is so smart!
She has learned to sit and lay down. She is working on shake and roll over. She is great on leash but she still has trouble sometimes with potting (but thats my fault I am in school 8 hours a day).
She loves to fetch and she loves the snow!! I have put pictures of her and the puppies, and some of her in the snow.