My GSD Puppy Rambo - Again
by Ileana Popovici
(New York)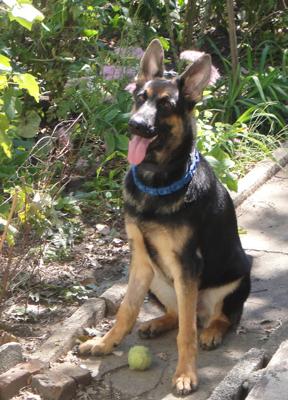 I have shared my first Rambo story when he was two months old and a very misbehaved puppy. LOL Now he is 8 months old and he is a gorgeous puppy. He is much better behaved now, but not perfect, of course. Now I'm having a totally different problem with my darling puppy Rambo.
We are moving to a new place, a very nice first floor apartment with a backyard. The problem is that in the 6 months that Rambo lived in our old place, he got used to go to the bathroom in the backyard. When we walked him, he just walked around, no matter how long the walk was, and save his bathroom business for the backyard where he was able to smell his own scent.
Now that we are moving I tried to get him used to go to the bathroom outside. So I took him for long walks and he did nothing. I always had to take him to the yard after the walk. Today I decided not to take him to the backyard after the walk.
So he would cry each time I brought him in from the walk because he needed to go to the bathroom. Each time he cried, I took him outside for another walk. To make a long story short, he did nothing! After hours of trying, and knowing that he needed badly to go to the bathroom, I had to just give in and take him to the yard. He peed for a long time since he was holding it for a long time.
My question is: how can I get Rambo to do his business outside just like all the other dogs? I am afraid that he will have problems going to the bathroom in a new place. How can I make him understand that taking a walk means that he can also use this time to go to the bathroom?