Vianney, Our New German Shepherd Puppy
by Jacqueline Donoghue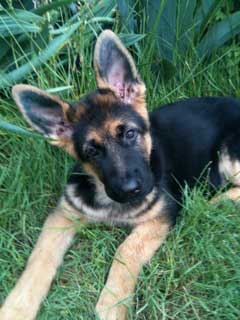 This is Vianney, the newest member of our family. My 33 year old brother had passed away this past October after a 4 year battle with brain cancer.
One of his favorite saints to pray to was St. John Vianney (the patron saint of priests) so this is where she got her name.
My brother and I thought it would be a good idea to get her as a birthday gift for my dad in May so we had her flown to NY from a breeder in Texas. We figured since my dad always loved German Shepherds (We had one when we were kids) she would be the perfect gift.
Also, we wanted to keep them busy after the loss of my brother and boy oh boy does she keep them busy!!! Her birthday is March 1, 2010 so on August 1st she will be 5 months old.
This picture is when she was about 3 months old.