My German Shepherd puppy, Maggie the Rascal
by Elizabeth Archer
(College Station, TX)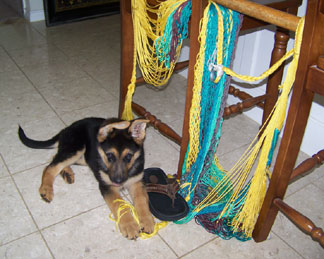 Maggie the Rascal
This is Maggie. As you can see she gets into trouble, but always has this look of "who me?? No, not me. I wouldn't do that."
Even though she has been caught red-handed & With those big, cute, sad eyes, how could you be mad.
Notice she was chewing a shoe, got bored & started on a hammock that I was going to put up outside.