Günter the Sable German Shepherd Puppy
by Daryl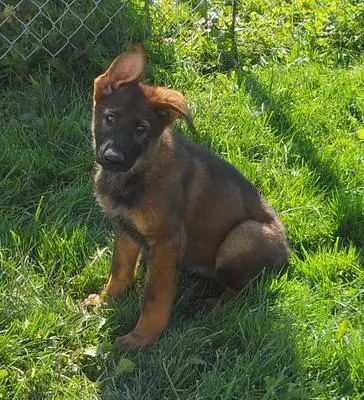 Pup Pup Hanging Out
I got Günter at 3 months. On the way to get Günter my car broke down and we ended having to get our other car after towing ours back home. I was determined to have this pup pup.


We got him for a really good price to since the lady messed up on the price in the paper. He is a pure bred, German blood line. He came with papers and all. I haven't regretted it since.
He is definitely very intelligent. I have only had him for a month now and he knows all his basic commands sit, stay, lay, come, stand, wait and heel. I spend lots if time with Günter. Lots of short period training, but it's already paying off.
Günter loves the dog parks, walking trails, and hanging with other dogs. He shows no fear and is very socialized. After advancing his basic commands I'd like to get him into shutzhund obedience training.
He likes lots of exercise and mostly spending time with his family. Let me tell you he is quite the character, during car rides he likes to put his paw on your arm like he trying to hold your hand as he sits next to you. Günter is truly a Godsend.
Total German Shepherd
:
Hey Daryl,
Thanks so much for sharing your handsome little Günter with us all here. He is truly a beautiful sable German Shepherd puppy.
Good for you in spending so much training time with him. I wish everyone did this with their dogs. It will be passed back to you again and again in the future so you'll never regret this initial training that you're doing now.
Keep us up on his progress and maybe sometime in the future you can send us an update. We'd love to see pictures of him too if you decide to start the Schutzhund training since so many people are completely unaware of what that is. Good luck!