Pedro The German Shepherd Pup
by Jiana
(London)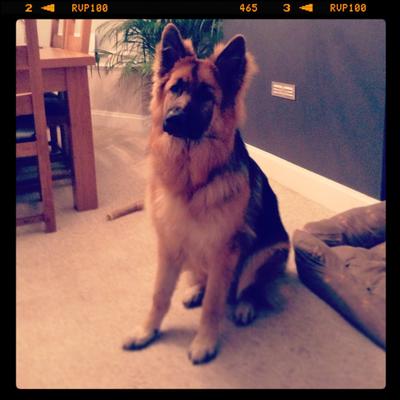 German Shepherd Pedro at 8 months
Pedro is our 8 month old bundle of fluff and love and his quirky personality never ceases to amaze and amuse us. He loves holding onto a toy whilst being dragged along on his belly with his legs dragging behind him but at his size now, it's back breaking fun.


I have the pleasure of spending most of my time with him and feel safe and secure with a 35+ kg dog sleeping on my feet (yes, on) whilst I work from home. Hair in just about every nook and cranny is a small price to pay for his company.
Total German Shepherd
: Hi Jiana,
Thanks so much for taking the time to share your handsome German Shepherd Dog with us all here. He certainly is a handsome boy and a fine example of a GSD!
I'm sure he excels at all his jobs too - chief of security and many more. Good for you having him help you like that while you're at home. I know having him there gives you piece and companionship too! What a nice combo.
I recently got another German Shepherd puppy myself and know the love they can give you - if I can ever get past the pirannah phase ;) Continued success with Pedro. He is also the first German Shepherd I have ever known by that name ;)