Not Getting Much Sleep With German Shepherd Puppy, Diesel
by Lois Simpson
(Canada)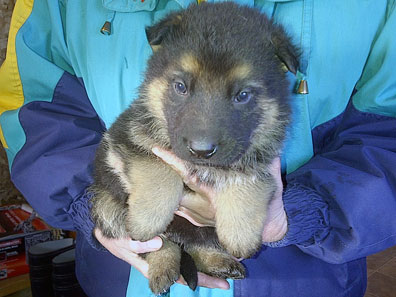 I would like to enter your photo contest but how do people who live in rural areas enter... We get our mail delivered to a P.O. Box.
Anyway here it goes. I have a 7 week old pup. He is at home now as of Dec. 17th.
The picture I am sending is a pic. when we went to see the pups at 5 wks old. He has grown a lot in 3 weeks now.
Not getting much sleep with a new baby in the house. He is great and I love him. We named him Diesel.
Total German Shepherd
:
Well the name certainly fits him because he is such a big baby in the pictures you've sent. But what a beauty. If he were mine I think I would name him Tank. (Same family of names, kind of, right?!)
Anyway, good luck with your baby and I hope you get some sleep soon. Keep the pictures coming in.