The day I got my German Shepherd puppy
by Anastasiya
(pine wood drive)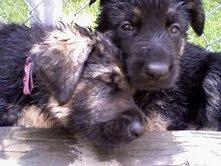 When I was on the internet my mum said "Do you want a puppy" and when i heard she said i can have a puppy I shouted and said YES!.
Then my mum said "What kind" I said "What is the best she said "A German shepherd "
"A German shepherd ok that is perfect now you have decide is it a boy our girl
I want a girl ok now whats the name Helga".When I got it I was 12
Total German Shepherd
:
Hello Anastasiya, what a great German Shepherd puppy story. And thank you so much for sharing your great story about your wonderful German Shepherd puppy Helga. And what a wonderful picture of the puppies - I absolutely love it! Too sweet!