My GSD Puppy, Sasha
by Tracy Preston
(USA)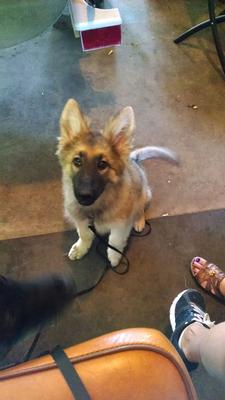 what a little cute GSD puppy
This is my GSD puppy, Sasha. She is 3 1/2 months. I have had her for 4 weeks now. We actually picked out each other.


She is a wonderful companion to our older Labrador's and very intelligent. I'm excited to have her, and learn all I can about my favorite companion.
She loves to play with the older dogs and they love her company. She is fascinated in lightning bugs and watches dog Frisbee on TV. I took her to our local garden Haymarket and she loves to socialize with everyone and other animals.
As we were resting from all the walking around, a working GSD was walking by us, Sasha got up and acknowledged this beautiful animal out of respect, and he paused and bowed his head to her and kept walking, both had smiles on their faces.
I wonder what was said in this passing : ).
I look forward to our future together.
Sincerely
Tracy Preston and Sasha