Want to Learn More About the German Shepherd Dog?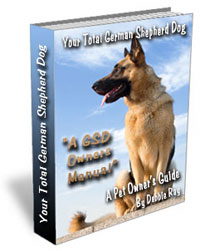 Then Check Out My Ebook "Your Total German Shepherd."
Chock Full of "German Shepherd Goodness"! Click the book above to learn more about it now!
Thank you for this web site. Very informative and well written. I often advise my shepherd people to visit here for information. Again GREAT JOB.Laura Page Warden, DVM

What a fabulous website!!! I really enjoyed reading about the history of the dogs. There is a ton of helpful information on here and defiantly something for every reader to enjoy!!!
Misty Weaver

Recently got a GSD again. Last time had GSD no internet etc. Cant believe how much info for free. Kenneth

I love and appreciate the helpful advice I found on your website! Rachelle

You'll Love Our FREE Monthly Newsletter!
Sign Up Below: