1 y/o Male GSD doesn't gain weight, what could it be?
by Lindsay
(East Stroudsburg, PA)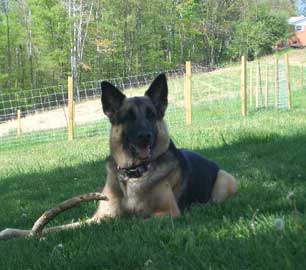 We have a male GSD who will be one in another 2 weeks. He is on the thin side, despite the breeder telling us he'd probably (b/c of his father, nearly 120 lbs) be a monster.
He weighs btwn 65-70 Lbs, and is fed Iams dog food (approx 2 1/2 cups) twice daily. He isn't super active, he likes to mush on the couch, so he shouldn't be burning much off.
His hips are the area that feel/look the leanest. He has been wormed, so we can't figure out why he doesn't fill out or what the problem could be. Obviously our next step is to take him back to the vet, but I thought perhaps this wasn't uncommon or maybe there were a simple solution.
Total German Shepherd
:
First of all I would definitely suggest that you take your puppy to the vet to have a full exam. Take fresh stool samples with you when you go too and have them checked - plus I would ask your vet to check your GSD for EPI if after reading the page on
Exocrine pancreatic insufficiency
it sounds as though your German Shepherd puppy has any of those symptoms.