10 week old German Shepherd puppy biting
by Chris
(USA)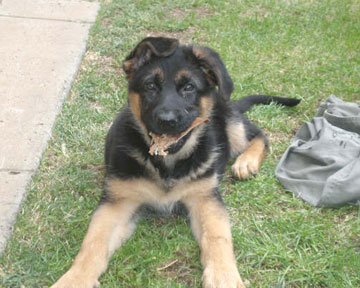 I have a 10 week old shepherd who is constantly biting me, and I have tried every method listed on this site as well as others with no success. I was wondering if this is normal for them because they are teething or if it is a more serious behavior problem.
As I have said I have tried squealing like a puppy when he bites me and refusing to play, I have tried saying no in a forceful manner, timeout in the kitchen away from me, I have even growled at him and showed my teeth while pinning him to the ground as a sign that I am dominant but nothing seems to have an effect on his behavior.
In fact, it seems to have the opposite effect in that he will sometimes bite at me more after I have disciplined him. If any body has any suggestions please help I am at my wits end and am running out of peroxide and band aids!