14 WEEK OLD GERMAN SHEPHERD WONT COME WHEN CALLED.
by DONNA
(BIRMINGHAM UK)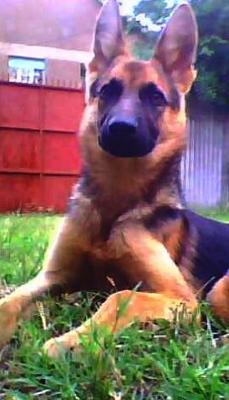 A FEW WEEKS AGO I BOUGHT A GERMAN SHEPHERD PUPPY, SHE IS 14 WEEKS OLD AND JUST WONT COME IN THE HOUSE WHEN CALLED.


THIS HAPPENS WHEN SHE IS IN THE BACK GARDEN SHE COMPLETELY IGNORES US. IS THERE ANY ADVICE YOU CAN GIVE TO CONQUER THIS?
WE HAVE TRIED ENCOURAGING HER WITH TREATS BUT THAT DONT WORK. I WOULD BE GRATEFUL FOR ANY ADVICE YOU CAN OFFER.

Total German Shepherd
: You need to train your German Shepherd puppy, no doubt, and this is a very important command to learn.
I've listed 2 banners for you on this page for a good dog training course online that you might want to check into.
I would also suggest that you sign up for a dog training course that you both go to in person - that is by far the best way to start training.
And last but not least check out dog training videos on Youtube for more ideas on how to
teach your dog to come when called
. Good luck!