18 month old German Shepherd Kai in Action
by J.C. Augustine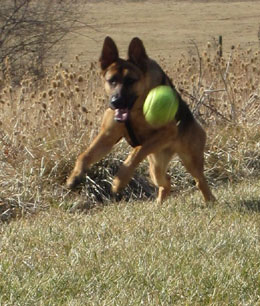 This is 18 month old Kai. After recovering from Cancer I adopted her from German Shepherd Rescue not only to be my daily exercise companion but because I have always wanted a GSD. She and I are inseparable now .
Just recently she won first place in her obedience class and earned her Canine Good Citizens. We start this weekend as a therapy dog going into the nursing homes.
This photo was taken at a road side stop on our way north to ski this winter. We didn't realize we got such a great shot until we enlarged the photo an saw that we really "caught the action" of the ball game.