2yr old German Shepherd acting out :(
by Jolie
(Houston, TX )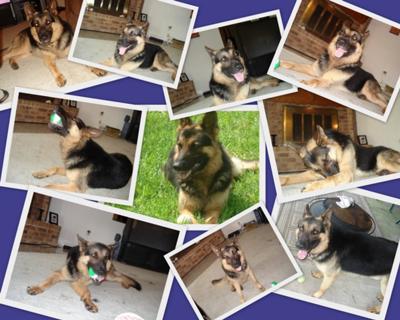 Kane Culpepper
Help!!!!! My husband and I adopted our male GSD when he was 6mths old from animal control. Long story short – He was owned by a military guy who got sent over seas and did not come back. His family did not want to keep him so the brought him to animal control.
My husband and I had been looking for one and fell in love with him at first sight. Anywho, he will be 2 yrs old this coming Feb. and I am 7mths pregnant!
He has ALWAYS been the BEST dog! His training was sooooo easy. He is smart and LOVES everyone. My husband and I have always been very active with him, but now with both of us working on top of me being in my 3rd trimester, we don't have time to do anything with him during the week. Due to this, he is acting out!
He has NEVER destroyed anything before, but recently he has been! He started just moving things around the house and now he is starting to destroy things! I don't know what to do…….. I will be quitting work in 9 more weeks, but until then I don't know what to do! Has anyone dealt with this before? Is it my pregnancy or the lack of activity????
Thank you,
JOlie Culpepper