3 Months Old Long Haired Black German Shepherd
by Carla Holtby
(Canada)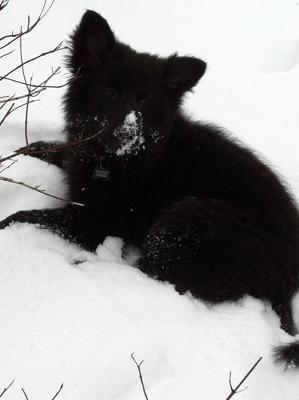 This is McLeod our 3 months old long haired black shepherd. This picture was taken just after he gave himself a face wash!


He's just to cute!!
Carla Holtby
Total German Shepherd
:
Hey Carla,
That is one of the cutest black German Shepherd puppy pictures I've seen in a while. McLeod is so handsome and I know you are so proud of him. I don't blame you, I would be too.
If he's anything like my German Shepherd puppy I'll bet he is a snow hound too. And probably water too I'll bet. And toys, I'll bet he loves those too right?!
I have had two black German Shepherds in the past. They are truly striking as far as looks go - especially when they are freshly bathed. I really do appreciate their good looks though for some reason it seems many people, maybe the not so savvy dog person, seems to be afraid of them, so keep that in mind whenever he's in a new setting. Watch people's reaction to him in new situations just to keep you all safe. Just my .02¢
Please send us some more picture of your little man whenever you have the chance. I'd love to see what he looks like as he matures. I can't imagine him being anymore handsome than he is now but there is always that possibility?! Right ;)