3 year old GSD is intimidating new 3 month old Lab mix puppy
by Stephanie
(Cranford, NJ, USA)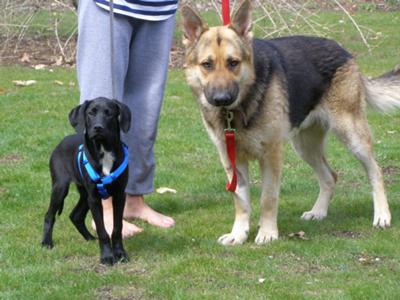 Finn and Dallas
Hi,


We just rescued 2 dogs last week, a 3 year old male German shepherd, Dallas, and a 3 month old male Lab mix puppy, Finn. They are both very sweet, however, the puppy is afraid of everything.
Dallas keeps wanting to play (?) with the puppy, but he is so big, when he runs over to the puppy, the puppy rolls on his back with his tail between his legs and Dallas keeps mouthing the puppy, his head, ears, etc. We are being firm with him to stop him from doing that, holding his mouth closed and saying no.
Whenever the puppy goes in the room Dallas is in, Dallas goes after him. I thought because we adopted these 2 on the same day that they wouldn't have too many issues adjusting, as they were both working from ground zero.
The puppy is now afraid to go downstairs and sits on the risers rather than go down into the living room here Dallas is. When the puppy picks up a toy, Dallas goes right over and takes it from him. I have also noticed Dallas begin to be mouthy with us, and we do the same thing, hold his mouth close with a firm "no".
I am hoping this situation will eventually resolve itself, however, I'd like to hear what you have to say. I am not sure if the shepherd is playing with the puppy or trying to hurt him.
Thanks.
Total German Shepherd
:
Congratulations on rescuing both those dogs - great job. I wish more people would do this too. It sounds as though the German Shepherd just wants to play with the puppy but the pup just isn't sure what is going on.
Give it time I think, however just supervise them when they are together in the meantime (until the Lab puppy catches up size wise) to make sure that the GSD doesn't overpower and bully the Lab puppy too much.
In most cases they will play happily together as they grow up together but I imagine the big difference in size right now is just a bit too much for the puppy. If you have the opportunity try playing with them both at the same time and help the Lab to build it's confidence around the larger dog and things should work out. Good luck!