5-6 month old German Shepherd "Trouble Maker" Biting EVERYTHING...HELP!
by Carolyn
(IL)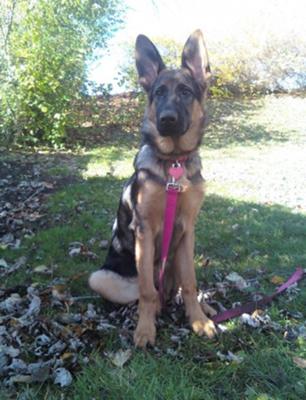 Miya Girl at 5 Months Old
My husband and I have added a GSD to our family in September '09. She is about 5 1/2 months old now and just lost her last baby tooth. I figured her teething would subside after losing all her baby teeth but she has gotten worse with the play biting and gnawing.
I will be enrolling her into a Obedience class which starts in 6 days. In the meantime, any suggestions of what I can do? The things I've tried when she gets nippy are:
1. Loud sudden yelps when she gnaws/bites
2. Saying a firm "no!"
3. Putting her paw in her mouth when she begins to play bite on me.
4. Distracting her with a chew toy.
5. Giving her ice cubes (but am I just rewarding her biting behavior then?)
6. Pulling her into a submission position when she begins to get too rowdie (laying her down on her back till she's calm)
All of these seem to work for the moment that I am correcting her. However, as soon as I finish the correction she is right back to finding a new body part to chew on. She has never drawn blood but I dont want to get to that point.
Is she testing my dominance level right now? If so, what else can I do to show "who's boss"?