6 year old male GSD sudden behavior problems
by Colleen
(Philadelphia, PA)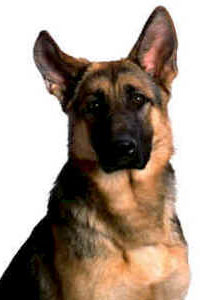 Our male GSD (6 yrs) has been acting out of character lately. My husband walked him last week and two pitbulls approached them he cowered and put his put up his paw as in "I surrender " stance.
We always thought he would take charge if the a situation like this presented itself. My husband was pretty dumbfounded thinking he may have to deal with these two pitbulls himself. Thankfully, the owner ran up and grabbed his dogs.
This week he chewed up and ate an over-the-door net hamper. He has since threw up most of it but this is out of character for him. Does behavior start to change at a certain point? Is he considered an "older" dog?
This is our first family dog and we have had him since the age of 6 weeks. We have 3 children 13, 5, and 5 so he is a friendly family dog. We just feel his behavior is changing. Thank you.
Total German Shepherd
:
First of all I would suggest you take your German Shepherd to the vet for a check up to find out exactly what is going on with him, health wise.
Could be many things but yes, he is courting senior citizen status and may be starting to feel his age such as arthritis or a host of other issues. And, yes, behavior can change as a result to aging in some dogs as they grow older.
So get him to the vet, have him checked out and ask the vet for advice based on your observations too. Good luck!