8 MONTH SHEPHERD - WHAT BEHAVIOURS CAN I EXPECT DURING THE NEXT SEVERAL MONTHS
by SAM
(CANADA)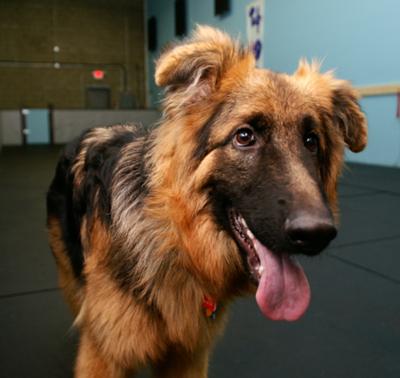 A FACE EVERYONE CAN LOVE
Hi there,


I have a 8 month old male coated GS and I would like to know what type of behaviours I may see as he nears his 1st birthday?
We are currently taking obedience classes. We are also enrolled in puppy agility to start later this month. We attends doggy daycare at least two days per week too. In addition to these activities, he gets at least a 45 min. walk per day too.
For the most part, our dog is well adjusted puppy. He is aloof with strangers. He will bark if an unfamiliar person approaches or if he has not had enough time to get to know the person or the situation. Learning to play well with children. Definitely uncomfortable when approached by a person who has their face covered (i.e. helmut, hood over their head).
He plays well with other dogs, considering how shy he was when he first starting attending day care and puppy socialization classes.
He has made amazing progress in this area. He still likes to bark at the other dogs when playing, but we are all actively working on reducing this type of unwanted behaviour. He is reactive (barks and pulls) on leash, but I feel this might just be the way he communicates with another dog when he sees them. The barking immediately stops when the dogs meet.
Most of the encounters are without incident, however the past few days I have noticed that he is starting to meet dogs that he is less comfortable (starts off with sniffing then starts to show his teeth.
This behaviour is immediately corrected and stopped) around. I believe there is strong connection between this new behaviour and two dog attacks that happened on the weekend. These attacks (two different days) were totally unprovoked. They occurred while we were playing fetch at the beach.
My dog was running for the ball and another dog went for the ball too. My dog immediately backed off and let the other dog have the ball. He returned back to me and other dog returned back to its owner with the ball. The owner threw the ball to me and my dog went to get the ball when their dog attacked my dog.
Obviously, I am very concerned what impact this will have on my puppy, but I don't want to obsess (my last shepherd was dog aggressive. He was attacked around the same age too.)about it. My puppy did not fight back after these attacks occurred. The incident happened and we immediately started to play again without any problems.
I'm confident the ongoing exposure at doggy day care/dog obedience/agility will continue to approve his confidence around other dogs despite these two setbacks.
Thanks for letting me share my story with you. Look forward to your comments and any advice you can share.