9 week German Shepherd puppy is possessive while eating
by Garrett
(Fresno, Ca)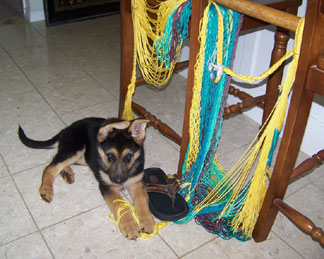 My 9 week old puppy gets angry if you pet her while eating. It seems that she does not mind if you pet near the rear of her.
She only reacts when you pet her front paw area or neck. She will first growl and nip.
She sometimes gets irritated and will grab a mouth full and walk a few steps away, put it on the floor and eat.
We tried hand feeding for three days and there was no difference. I have also used different bowls and different areas.
She was born in a litter of 7 and seemed to be eating fine with the others while i was there. Any help is greatly appreciated.
Join in and write your own page! It's easy to do. How? Simply click here to return to GSD Questions Form.
Sign up for promotions, news, discounts, and the chance to win prizes for you and your German Shepherd