9-10 cups a day too much food for a 5 month old GSD?
by Chris
(USA)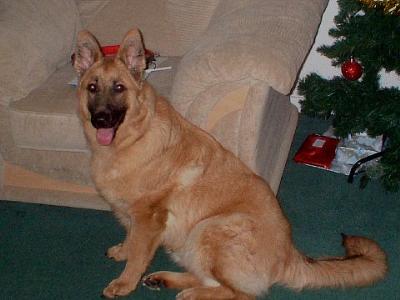 I have a 5 month old GSD pup who was recently neutered, and when I took him back for his check up a couple of weeks afterwards the vet questioned me on how much I was feeding him because she said he was looking thin.


I feed him 6 cups a day of blue buffalo brand large breed puppy food over three feeding times which is a full 1.5 to 2 cups more than the bag recommends for his age.
The vet said I should bump it up to 9 cups immediately then after a few days go up another half cup every feeding time and watch to see how much of it he eats and go from there.
When he went in that day he weighed about 45 lbs. I admit I have questioned myself about his weight (you can faintly see his muscular structure of his ribs) and even asked my trainer if he looked thin and if I should feed him more, but she seemed to think that 6 cups was a lot.
I like blue buffalo, but even at six cups a day it was getting too expensive for my budget so 10+ cups I definitely couldn't afford. I want my boy to be healthy and eat good stuff but if that that's the amount he needs I will probably have to go with Iams Large Breed
Total German Shepherd
:
Wooooooowwwwwww! That's a lot of food - and for only one puppy?! Yes, I would have to say that that's waaaaayyy tooooo much! And I would have to disagree with your vet on this.
Please check the dog food bags feeding suggestions for something to go on as far as weight and age goes - and keep in mind that this is only a suggestion but it kind of gives you an idea of where to start.
Then I would suggest you back off what you're feeding now - slowly, over the course of a couple of weeks - until you're somewhat closer to that amount.
Now not all puppies require the same amount of food - some may need more, some less, and how active your GSD is, it's age, overall health and so much more affect the amount of food needed too.
But it's better to keep a maturing German Shepherd puppy a little thin than too heavy any day - especially on all those developing joints and bones. Good luck!