Dog Ice Cream Recipes for Your GSD
Dog ice cream recipes? Really? Whenever it's hot outside, we all look for cold treats to cool us off - our German Shepherds included!
With that thought in mind here are 4 doggie ice cream recipes for you to try out on your very own pets. If you enjoy cooking and trying out new things, I'm sure your German Shepherd will be happy to test these recipes out.
Very important! One thing to keep in mind, if your dog is lactose intolerant, or allergic to peanuts in any way, please reconsider the below recipes or at least consult with your veterinarian first BEFORE trying them out on your GSD.
Also, it is really important to remember to only give your dog minimal amounts of extra treats at any time! With all that in mind, here are the 4 Dog Ice Cream recipes I promised you before - in no particular order. I hope you and your German Shepherds both enjoy these new new cool tasty treats. Bone appetit!
---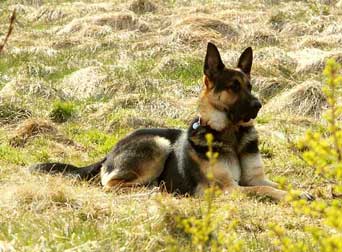 4 Dog ice cream recipes to try
Pupsicles - Dog ice cream recipe
2 cups low salt beef or chicken broth
2/3 cup water
2 or 3 ice cube trays
Small rawhide sticks
Mix water with beef or chicken broth and pour into ice cube trays. Place in freezer and serve cold. Add a rawhide stick halfway through the freezing. This recipe is quick, easy, and fun. It's probably best to serve this dish outside.
Source: www.dog-pound.net
Doggie Ice Cream recipe
2 cups vanilla yogurt (or plain low-fat)
Mashed bananas
2 tablespoons honey
Mix ingredients and freeze in ice cube tray. Voila...sweet, cool bite-size treats for your pooch!
Source: www.bone-a-fido.com
Doggie Dessert recipe
4 cups rice milk
1 tablespoon vanilla extract
1 tablespoon honey or peanut butter
Set paper cupcake liners into a muffin tin. In a large bowl, stir together all ingredients. Use a cup with a spout to pour the mixture into the muffin cups. Freeze.
To serve, remove paper liner and place treat in dog or cat bowl.
For a double treat, place a miniature dog biscuit in the filled muffin tin before freezing.
Source: www.recipegoldmine.com
Frosty Paws Ice Cream and Birthday Cake
32 oz. plain yogurt
1 mashed banana
2 T p'nut butter2
T honey
It's true dairy products aren't good for dogs, but yogurt contains much less lactase than regular milk and the live cultures are great for your dog's digestive system. This dog ice cream recipe is delicious and good for your pet!
1. Mix all these ingredients in your blender, then dump into ice cube trays, paper cups, or even a kong toy to freeze and serve.
2. If you want to go all out for your mutt you can freeze these homemade frosty paws just like you would homemade ice cream. A salt-less automatic ice cream maker makes this as easy as using any other appliance in your home and the frosty paws will be ready to serve in 10 minutes.
For the ultimate treat, appropriate for desert at a doggy birthday party, follow steps one and two, then take the mostly frozen dog ice cream product of number two and spread it 1" to 1½" thick on wax paper. Freeze for five minutes and then remove dog ice cream from freezer. Next, use a paw shaped cookie cutter to cut a paw shaped "frosty paws", remove ice cream around edges, and return paw shapes to the freezer to freeze solid.
NOTE: This can also be made with baby meat instead of the fruit and peanut butter.
Source: www.collargirl.com

Return from Dog ice cream recipes to German Shepherd health issues


"Any member introducing a dog into the Society's premises shall be liable to a fine of one pound. Any animal leading a blind person shall be deemed to be a cat." - Rule 46, Oxford Union Society, London
Sign up for promotions, news, discounts, and the chance to win prizes for you and your German Shepherd