Dog wheelchairs -
German Shepherds in wheelchairs
Dog wheelchairs are made specifically for each individual canine patient according to measurements provided by the dogs owner to the cart manufacturer. Dog cart costs are based on the dog's actual size and weight.
Dog wheelchair prices vary depending upon the size of the actual patient and the type of cart needed. They are made to be comfortable, sturdy and maneuverable for your German Shepherd and to be effective in helping the dog regain strength and mobility.
Why kind of dog would need a wheelchair in the first place? The best candidates for 2 wheeled carts still have normal strength in their front legs and can pull themselves along in the cart with no major problems.
Carts can also be made for dogs who have no mobility in their front legs. Each cart is made pretty much on an individual basis and with a particular patient in mind.
Animals, just like humans, sometimes need a little extra help. The same goes for our precious German Shepherds. Elderly, disabled, injured and handicapped pets often need extra help but can often still live full and happy lives with the use of various devices such as wheelchairs, pet ramps, harnesses, diapers, and flotation devices.
With that in mind, we will focus our attention on this page in particular on dog wheel chairs, sometimes also called dog carts. It is not at all uncommon for injured, elderly or handicapped dogs to lose the use of their back or front legs.
Many common reasons dogs may need wheels include: accidental injuries, nerve damage, DM, cancer, arthritis, disk problems, hip dysplasia, ruptured discs, spinal cord injuries, fractured back, neuropathy, nerve degeneration, spinal lesion, arthritis, ACL, wobblers, tumors, neurological disease and chronic leg weakness just to name a few.
Dog wheelchairs, AKA: dog carts, are designed to help dogs that have problems of one kind or another with mobility. There are many different kinds of dog wheelchairs available that support the back legs, front legs, or all four legs of the dog patient.
Whether your dog needs a temporary mobility aid while recovering from trauma or surgery, or needs a more permanent solution to your pet's mobility problems, dog carts can be fitted to suit your needs in a host of configurations and styles.
Almost any animal can benefit from a cart - dogs, rabbits, cats, ferrets and more. A dog cart or dog wheelchair can offer an otherwise healthy GSD a wholesome, healthy and quality filled long life. This need for a mobility aid such as a wheelchair does not have to be the end of a dog's life - many can happily live for years with this bit of additional help.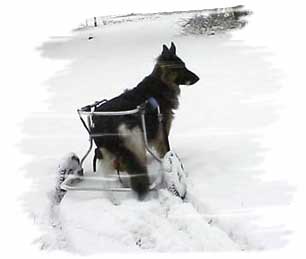 Styles of carts (dog wheelchairs) vary and are offered by many companies, all of which can be easily investigated on the internet. Do a lot of research and ask lots of questions, and decide which features are most important to you before you order. Remember, this new dog wheel chair will be your dogs legs and should last for years to come so make the best decision possible for your German Shepherd.
What are the return policies in case your dog can't adapt to the wheelchair? What about repairs? What if you have problems with the wheelchair in other areas? Normal chair maintenance? Available warranty? Replacement options?
A very important thing to remember is that all dogs must be supervised when in their wheelchairs. They can tip over in their carts or get a wheel hung up on things which can cause problems, and even potential injuries. Another thing to consider, due to their size your German Shepherd will not be able to lay down while in their cart and can get tired if left in their cart too long. For this reason never leave a dog unsupervised while in their cart.
Here's One Dog Wheel chair to Check Out Right Now
Just click on the image below to read more about it right now.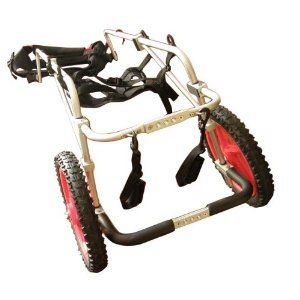 ---
Here are a few of the most important features that you should look for when purchasing a dog wheelchair for your German Shepherd. At a minimum, it should:
• be strongly made and safe, yet lightweight and easy to maneuver.
• allow mobility for any GSD with paralyzed legs.
• be fairly easy to get the dog in and out of the cart.
• allow normal bodily waste functions and still keep the dog clean and dry.
• prevent sores that result from dragging the hind legs by providing foot slings, etc.
• allow normal habits such as eating and exercise.
• be affordable for the customer.
• be lightweight and easy for the dog to use.
---
Your German Shepherd will definitely thank you for giving him back his freedom and the ability to be a carefree dog again!!!
Don't let an injury or illness rob your GSD of his ability to lead a happy life just because he can't walk properly on his own. A dog wheelchair could be just the ticket to getting your dog up and about again.


Return from Dog wheelchairs to Arthritis in the GSD


"Even the tiniest Poodle or Chihuahua is still a wolf at heart." - Dorothy Hinshaw Patent, Dogs: The Wolf Within
Sign up for promotions, news, discounts, and the chance to win prizes for you and your German Shepherd